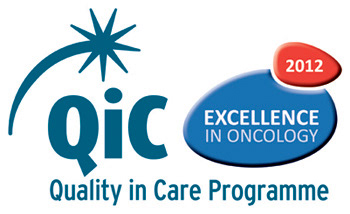 The Quality in Care (QiC) Excellence in Oncology programme has been welcomed as an exciting initiative by the National Cancer Action Team, the Department of Health and Pfizer, and developed with them. 
The QiC Excellence in Oncology Awards recognise and reward best practice in oncology management, education and patient care throughout the UK. 

There are 12 different categories specifically aimed at professionals from diverse fields within oncology (clinical practice, research, journalism and the not-for-profit/charitable sector).

The designs needed to gel together the Quality in Care style and branding whilst also incorporate the existing work of previous Pfizer branding. The 'Pfizer pebble' was incorporated into the QiC logo and the main image chosen incorporated round edges, curves, bubbles and circles.